Ghostly Seductions
My Dark And Haunted Erotica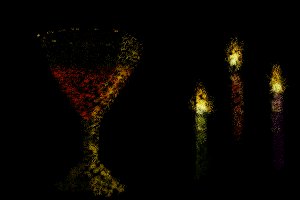 Welcome to this dimly lit room, set aside
for voices which can make your blood stir with
passion, and can cause a sheen of moisture
to form upon your waiting and willing flesh.
Here you will find the side of the Ghost that is
unseen by many, and understood by less.
Partake and enjoy...
Candle Light

Candles flicker furtively,
Erratic wisps of light...
Darting o'er your perfect form.
You're such a lovely sight.
Clad in gossamer, you are,
Both breathtaking and fair.
You arouse me easily,
Of this, you're quite aware.
Moving close, we kiss, embrace...
Our warmth and passion great.
Soulmates sharing mellowed light,
Uniting, we'll not wait.
My hands are gently moving
Across your flawless flesh.
The feel of you, uncanny,
Our essence seems to mesh.
Parted lips display our love,
Our mingled breath a drug
Drawing us to depths unknown
Of comfort, warm and snug.
As, entwined, we move as one
Increasing passion share,
Candles melt, light fades away...
In warm and musky air


Interlude

Transfixed, I'm watching you,
Your movements steady, slow.
Moving to me easily...
Your languid motions flow.
Clad in lace and satin,
Your body's virtues seen,
Lovely face, perfect feet,
And all that's in between.
You slide between the sheets,
Your body heated, flush.
Our lips now warmly meet,
The love feels verdant, lush.
Holding you lovingly,
Caressing your red hair,
Your breasts both soft and warm
Press close...desire we share.
Rapidly kissing you
As I grow quickly hard.
Your neck is worshipped thus,
It's with no blemish marred.
Tasting of you slowly,
Your sweet and saltiness.
Lips brushing angel hairs...
Such beauty! You are blessed.
Hands caress heated flesh,
We move, a lover's dance.
Following where it leads,
This sensual romance.


Bath

The steaming bath drawn, with foam
Atop, in billowed mounds.
Covered in it's sultry warmth,
While making not a sound.
Gently stroking your soft skin,
It's slickly wet and still.
Arms around you from behind...
My mind and heart you fill.
Kissing you behind the ear,
Lips brushing angel hairs.
The taste of you like honey...
Intensely fine and fair.
Hands caressing perfect breasts
And belly, moving down,
To the center of your being...
You are a treasure, found.
As our breathing quickens now
You turn, our warm lips meet.
Embracing long, heavenly,
We share an inner heat.
Intimate, we meet as one,
Alike in love, desire.
As the evening passes on,
Spirits soaring higher.


Forested

Shaded glen, a hidden glade
Away from the eyes of men.
Meeting here, a rendezvous,
Amidst this grassy fen.
Towering trees high overhead,
They form a leafy sky.
Verdant roof of varied green
Is shade for you and I.
Lush the carpet, where we lie,
The grass around us cool
As I kiss your waiting lips.
Your eyes are lovely pools.
Scents of flowers, trees and grass,
The perfume of this world,
Fills us overwhelmingly.
Together we are curled.
Caressing, touching softly,
And sharing nature's gift
Here with you, in such a place...
I feel my spirit lift.
Overcome with fervent love,
Desire that rules my heart,
I continue loving you...
My ministrations start.
As we move to climaxed love,
Our pounding hearts as one
We lie together, sated,
Our time here far from done.
Long hours pass, as we share
The beauty of this place,
But to me, it's pale, compared
To that found in your face.
You're my world, my love and life,
I hold you in my heart
As we share this solitude,
We never more will part.


Siren Call

The date unknown,
But long ago
A merchant sets to sea,
Propelling him
To traders he must see.
His friend's warnings
Just make him smile...
The idle tales of men,
Of dangers dark
Which lie in wait
The seas where he must wend.

Long days gone by
When to his eyes
An island comes in view.
He begins to
Tack around it...
This trip, he may well rue.
Across the breeze
A voice is heard,
A woman's lilting song...
Eerie in its
Soft quality,
Her tones are clear and long.

Warm images
Invade his mind,
Her soft and perfect skin,
Her liquid eyes
And parted lips
Which seem to call him in.
His hands slowly
Begin to move
The wheel, to change his course.
Oh, just to kiss
Those lovely lips!
He's moved, as if by force.

Flawless body,
Her perfect breasts...
The song conveys it all,
Thus making her
More dangerous
Than any storm or squall.
Visions of her
Sheild from his eyes
The hidden deadly shoals.
He doesn't see
Approaching death...
The waves that crash and roll.

But suddenly,
His vision clears!
In panic, spins the wheel.
But he's just not
Fast enough! It's
Chilling fear he feels.
As he crashes
In violence, he
Sees her so lovely form.
He's sinking fast
Beneath the waves,
By her seductive storm.



Links to the Ghost
: The Worlds Of The Ghost